Street exhausts

Spark STREET silencers and full systems for road use are meant to give the most demanding enthusiasts a unique and special bike look.
DESIGN: studied in Mantua's R&D department in cooperation with research centers and style specialists of the most prestigious Italian universities to emphasize the line and character of each motorbike.
Constructive DETAILS and specific features make each product UNIQUE and reflect the PASSION and commitment of an Italian company with such a long TRADITION in the world of two wheels.
Manufacturing TECHNOLOGIES and MATERIALS belong to the latest generation and they are constantly kept up to date thanks to multiple cooperations with important automotive producers.
100% ITALIAN PRODUCTION, entirely accomplished in-house to directly monitor every single production stage according to ISO 9001 procedures in compliance with TÜV quality standards.
Each project is the result of a long work by R&D dept. who conducts studies and performs numerical simulations, CAD elaborations and so many TESTS so as to ensure higher PERFORMANCE compared to the original exhaust.
For most of the slip-ons the HOMOLOGATED version is available according to Euro3 or Euro4 Regulation, depending on the motorbike model.
The homologation certificate is released by the Italian Ministry of Transport after each Spark product has successfully passed the dB level tests (static and dynamic test), bench tests, durability evaluation and pollutant emission tests.
Below you can find some distinctive features of the different silencers on catalog:
FORCE
5-sided silencer with a dual purpose design, improving aesthetics and performance. It is available in different lengths: 300mm, 350mm and 400mm. Because of his volume, it is often used for STREET projects and homologated systems.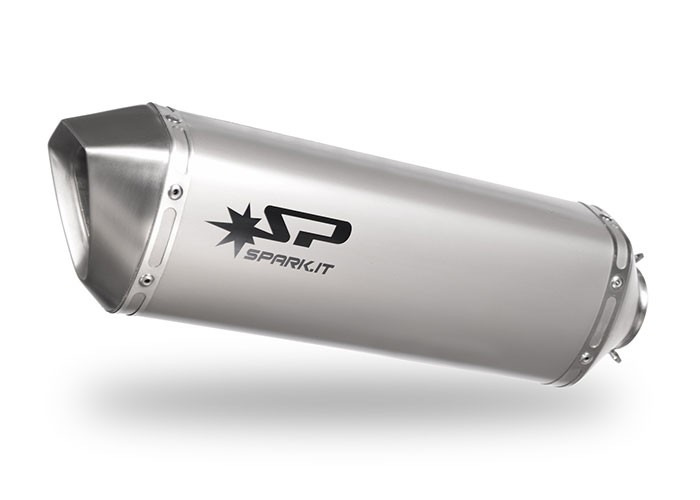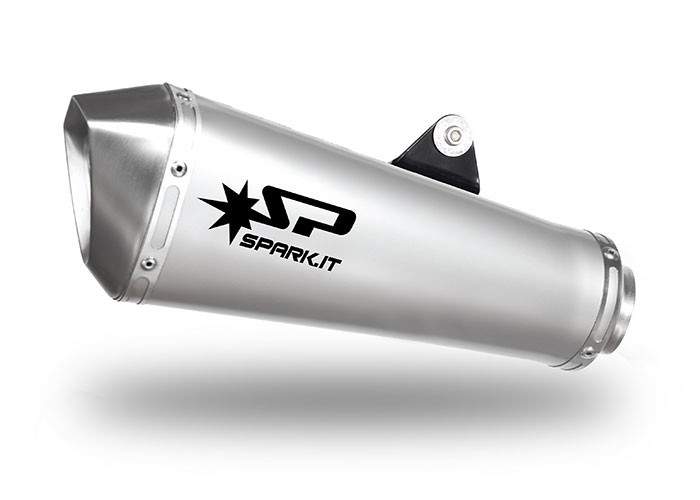 KONIX
One of the most frequently applied silencers by Spark, similar to Force but a bit shorter and with conical inlet, for race use. Very adaptable to any kind of motorbike, it is available in 3 different diameters: d.54mm, 60mm, 65mm.
HOT ROAD
The Hot Road silencer has been added to the range to meet the demand of a more extreme design but with clean-cut and minimalist lines at the same time. A universal version is available for both left and right side of the motorbike.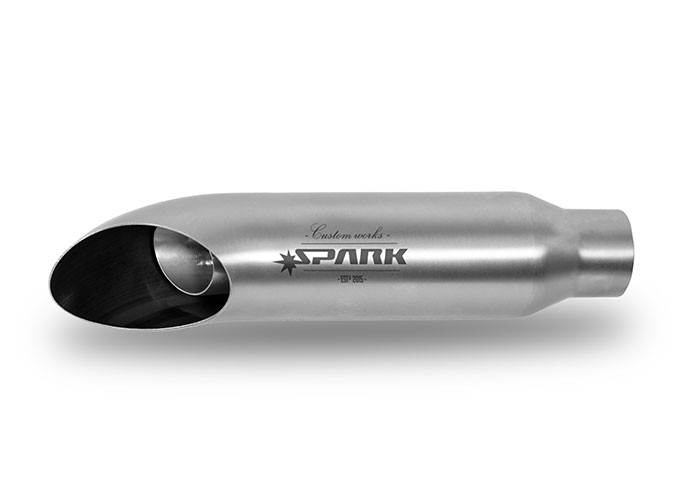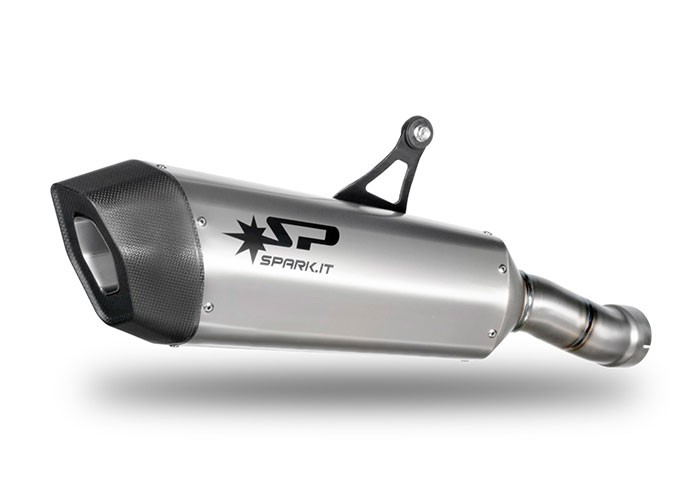 FIGHTER
The company from Mantua created a study group composed of passionate bikers and researchers from Polytechnic of Milan in order to offer a light and reliable product to maximize durability over time. Appealing from the aesthetic point of view, with aggressive and elegant design and with specific features and volumes to comply with Euro4 regulation. From design to 3D simulations, development of the prototype and molds necessary for production, every step takes place within the company thanks to R&D's passion and commitment and all the technology dedicated to the project. As to materials, carbon fiber end cap gives the silencer a very racing aesthetic. All remaining components are made of titanium for maximum lightness.
GRID-O
R&D department developed Grid-O silencer for the new Triumph Moto2 engine.

It is entirely made of titanium with visible welding, laser marking for a racing and aggressive design. A 600 grams concentration of technology. Extreme.
A very distinctive style enhancing the character of those motorcycles with great personality such as Ducati V4 or Triumph Street Triple.
It is available also for all fans who want to give their bikes an extreme and unique look.

Spark also provides optional dB killer to combine captivating look with possible use both on track and street.
DB killer is removable to produce exaggerated sound when needed.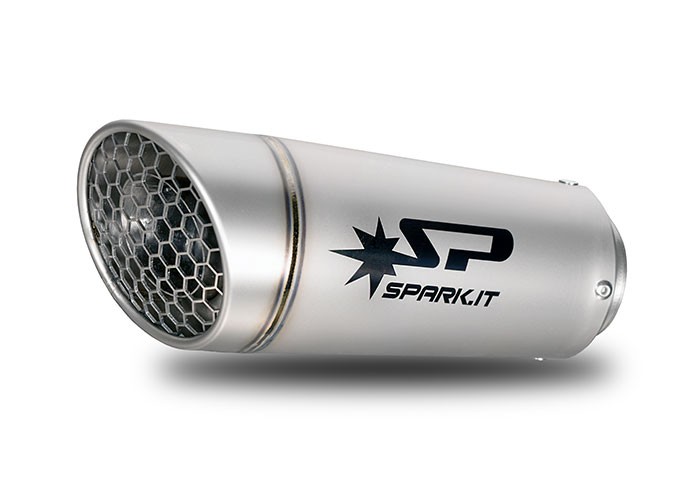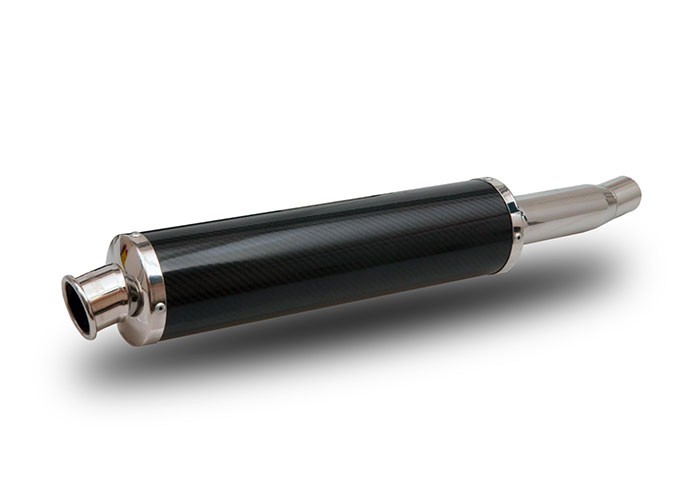 ROUND
Its simplicity reflects the tradition of the aftermarket silencer. Spark created the first round silencers in carbon with stainless steel "spout" end cap for the iconic Ducati Monster. Different designs then have been elaborated over the years, round silencers have been updated with TIG welded conic endcap end cap also on under-seat exhausts... However, the traditional round silencer is still on catalog to allow Ducati Monster and Supersport models fans to respect the unique and untouchable style of that time.
EVO3 / OVAL
In all its simplicity, it reflects the tradition of the aftermarket silencer. Spark created the first oval silencers for the iconic Ducati Monster and for the aggressive two-cylinder Honda VTR 1000. Available in carbon, titanium and stainless steel with the typical "spout" end cap. Over the years the design has been updated and oval silencer became an Evo3 with conic endcap and offered for Bmw 800 R and GS. Even with a slim shape, the oval silencer allows to obtain a bigger volume than the round one. Therefore, it helps to reduce deciBels for the homologated versions.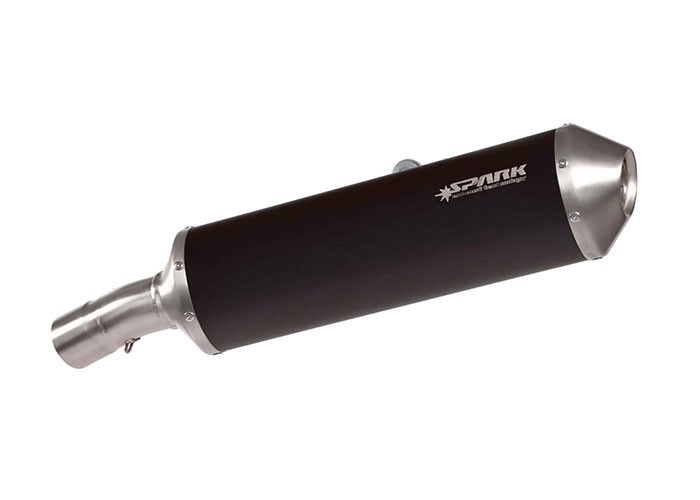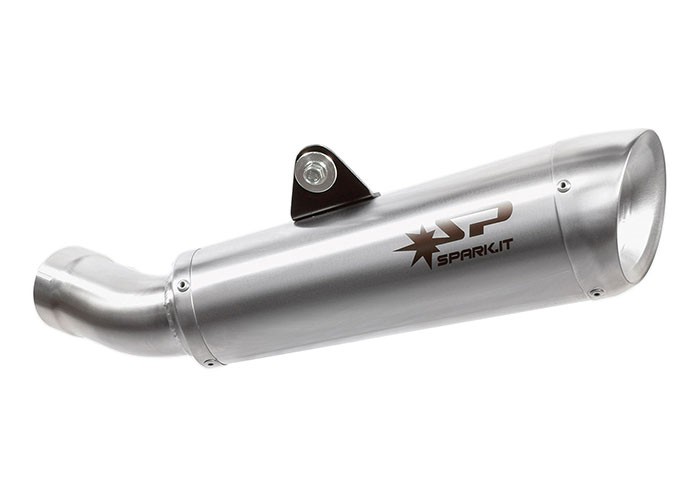 EVO5
Is available in different materials (carbon fiber, dark style, titanium and stainless steel). It is a compact silencer, with removable dB killer. The endcap is the key element, with a simple and very complex design at the same time. The production of the endcap needs 5 different steps under mechanical press, 3D laser cutting and robotic scotch-brite finish.
MEGAPHONE
It is 330mm long, inlet is 60mm and it can be mounted either on the left or on the right side of the motorbike.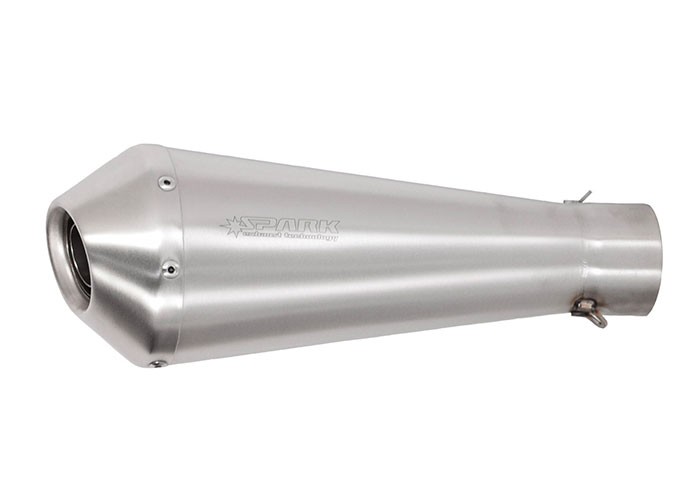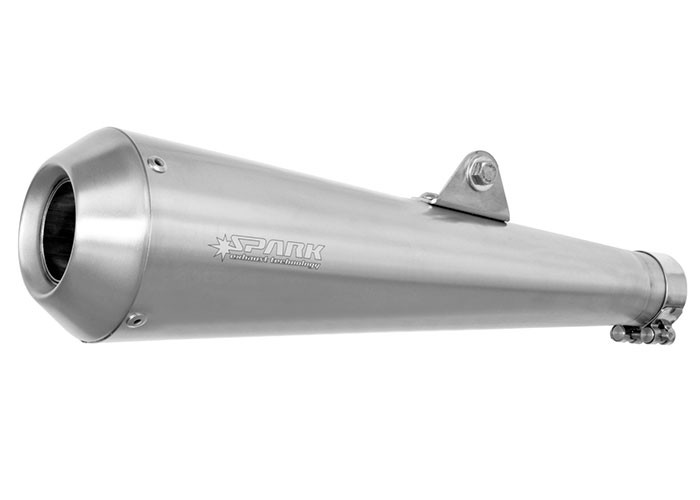 CLASSIC
40 cm long, inlet diameter is 45mm. it is possible to mount it on the left or on the right side (or both). Removable dB killer is included.
MOTO GP
It has been developed for Moto2 World Championship, inlet diameter is 60mm and length 175mm, completely racing. It is entirely made of titanium so that weight is less than 700g.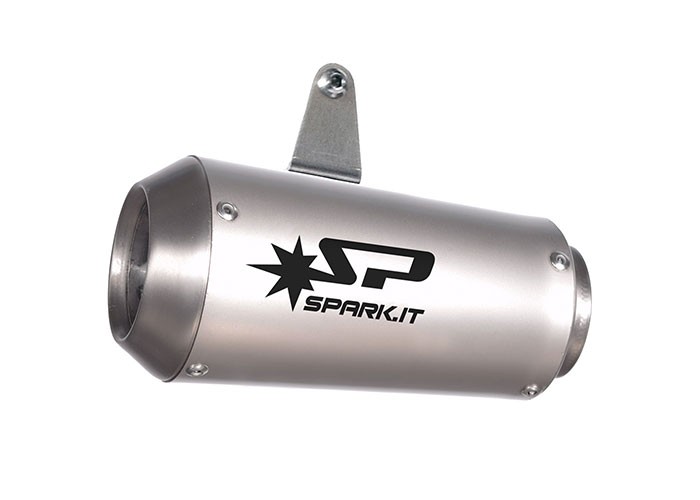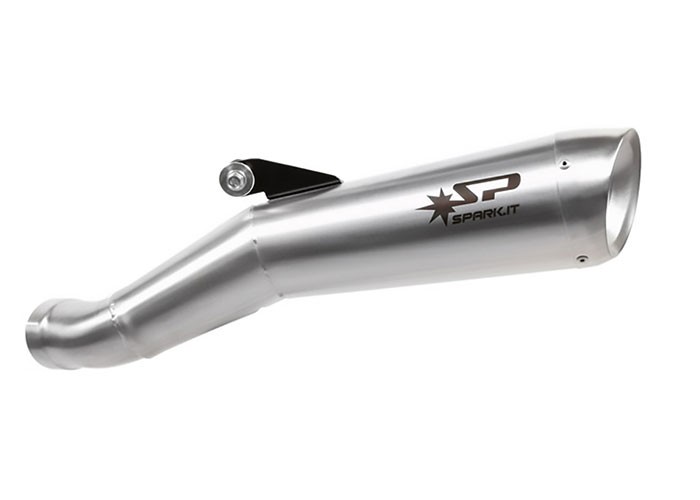 70'S
Silencers have an elegant, round and slim design. The shape recalls mufflers from '70s motorcycles but hides the latest technical solutions allowing to minimize length but maximise volume, even in the first part of the cone. The TIG welding on the sleeve decorates the product which stands extremely close to the rear wheel.
60'S
Very short slip-on designed in cooperation with one of the most innovative Ducati customizers (the Spanish tuner Pepo, XTR).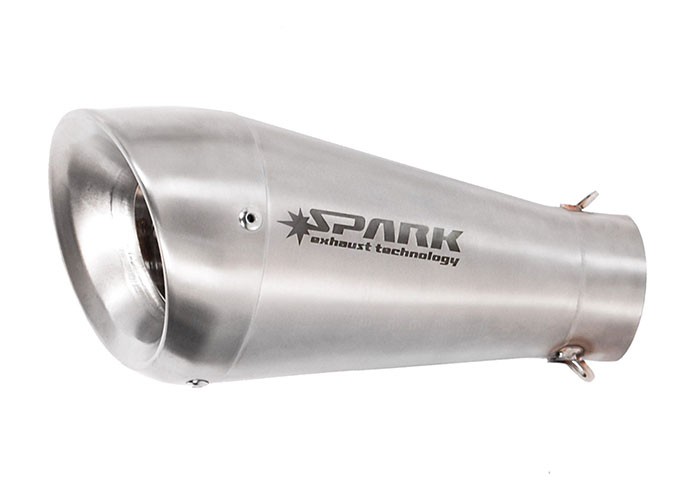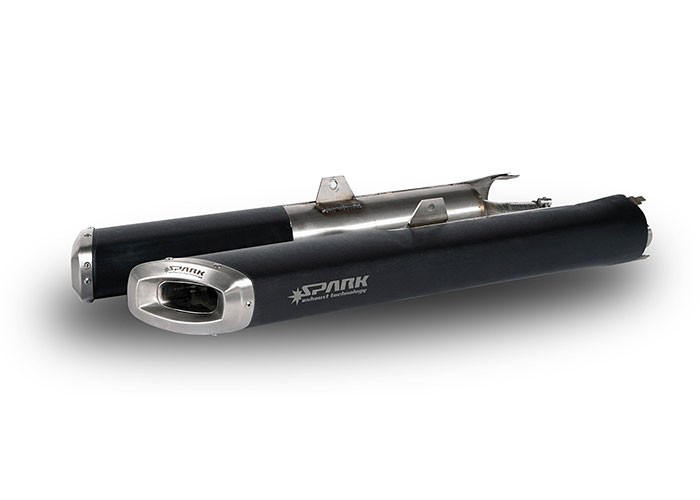 RECTANGULAR
Sharp edged and rectangular silencer designed to perfectly adapt to Ducati 848/1098/1198 and Aprilia Dorsoduro tails. The endcap is diagonally cut.
GP STYLE
A very compact conic silencer (32cm long) recalling the lines we use to see in MotoGP. Scotch-brite treatment on stainless steel gives such racing silencer a titanium look. It is provided with removable db killer.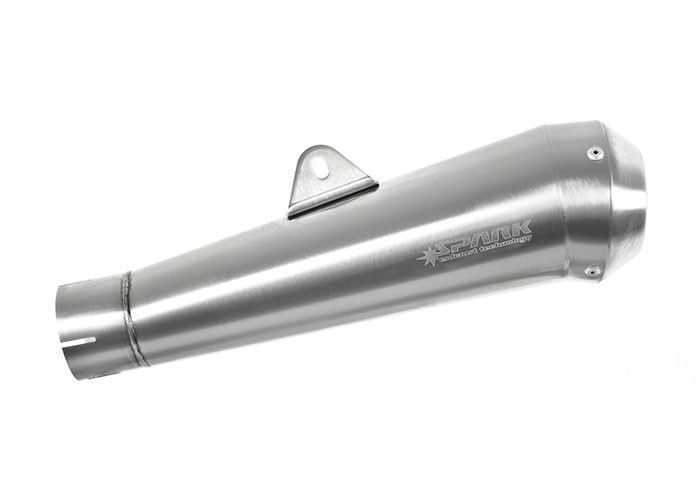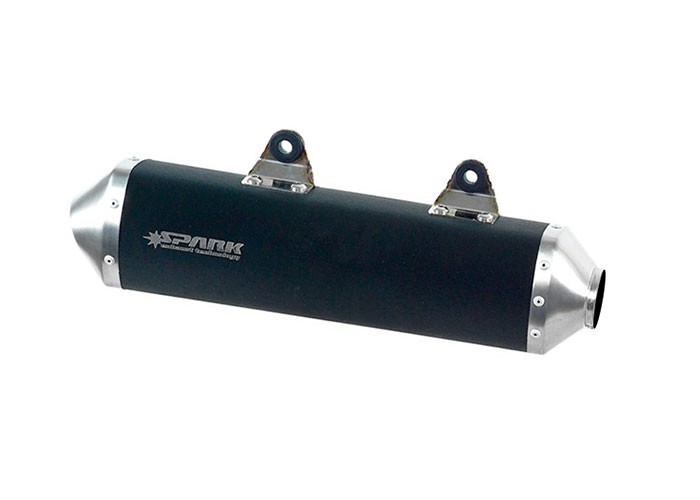 OFF-ROAD
After the positive experience in Racing, the choice to directly confront Off Road teams expresses Spark willingness to devote energy and resources to the development and production of exhaust systems that perfectly respond to riders' needs. The titanium or black stainless steel silencer's shape maximizes the volume to be within strict s noise limits required by the international federal regulations.
TRUMPET
With vintage style but latest technology, it is adaptable to any kind of motorbike. Logo is lasered on both sides so that the silencer can be mounted in single or multiple solutions on both sides of the motorbike. It is possible to customize the silencer by adding a specific logo or marking.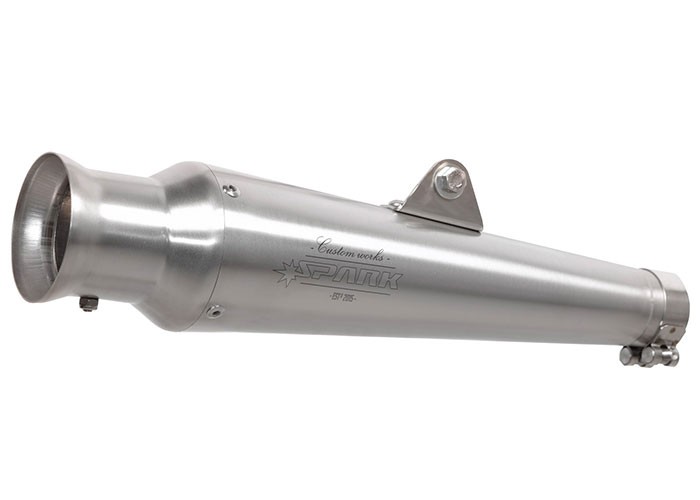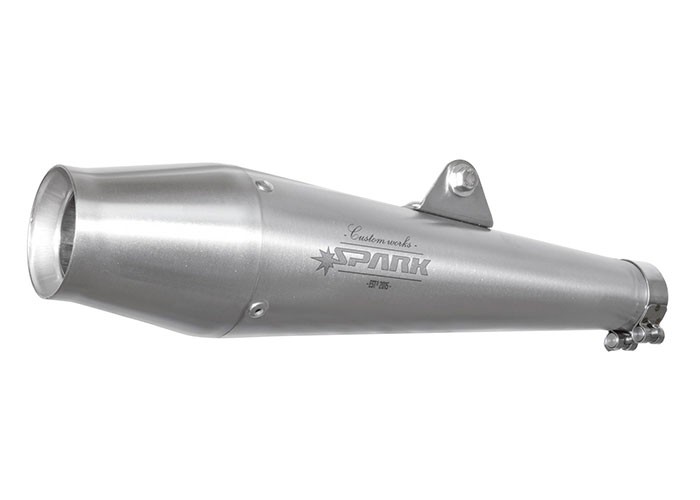 SINFONIA
Similar to Trumpet but with a different, more elegant and refined endcap. Logo is lasered on both sides so that the silencer can be mounted in single or multiple solutions on both sides of the motorbike. It is possible to customize the silencer by adding a specific logo or marking.
DAKAR
Style department developed such shape by starting from state-of-the-art materials and technologies to recall the timeless charm of desert-rally icons.